Proactive Protection
Which security product stops the most zero-day threats?
When new viruses, worms and other malicious attacks strike, traditional signatures are insufficient. Every minute you wait for an update is another minute that your computer and network are vulnerable to damage, infection, or identity theft. ThreatSense™ Heuristics closes the window of vulnerability by safely identifying and stopping malware as it attempts to run on your computer.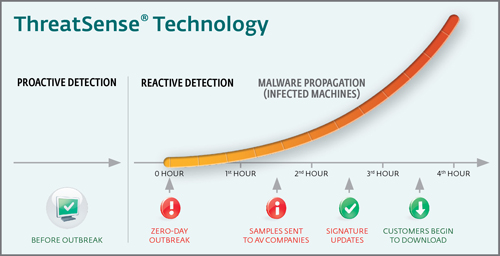 ESET NOD32® Antivirus has consistently been rated as the best protection against zero-day threat and attacks by the world's leading proactive antivirus testing organizations.
Out of numerous antivirus products tested across multiple categories, ESET NOD32® Antivirus received the top rank in proactive on-demand detection, and on-demand scanning speed, earning the status of Best antivirus product of 2007. ESET NOD32® Antivirus was recognized for its advanced heuristics scanning capabilities at a high rate of speed and accuracy. In contrast, many competing antivirus products consume significantly more system resources, slowing computer and network performance and response times, resulting in poor end-user experience.