Renewal Instructions
ESET Software is easy to renew
To renew your ESET software you will need to purchase a renewal license. This license consists of a case sensitive user name and password sent from ESET Software. This will be sent to the email address you provide. Please check your junk or spam mail folders for your license from ESET Software
Your ESET license user name and password is required to purchase a renewal. Instructions and help
Please provide your license user name and password in the shopping cart during checkout. If you have lost your license user name and password you may have ESET send your license user name and password directly to your email
If you wish to add more computers to your existing Home Edition license please purchase a multiple computer NEW license (not a renewal license). This is a greater discount compared to adding a new license to a renewal.
Select the renewal license you wish to purchase and click the 'Buy' button under your license selection on the (home edition) Renewal Page This will open a secure shopping cart that will walk you through buying a license. On approval of your purchase you will receive an email receipt.
For checks or money orders simply print out the order confirmation and send the payment to the address provided.
Once payment has been received, a case sensitive user name and password will be sent to the email address you provide.
Install the user name / password
If you originally purchased your license from us we will retain your existing user name and password. In that case you need to do nothing. The software will update automatically.
You do not need to reinstall the software. Just follow the step-by-step instructions below on entering your new user name and password into the program, as well as a final step to ensure that the program is updating correctly. Please allow 24-48 hours after entering your new user name and password for the new expiration date to display.
1) Open the main program window by clicking the icon

in the Windows notification area or by clicking Start → All Programs → ESET → ESET Smart Security/ESET NOD32 Antivirus.

2) Click 'Update' and then click 'User name and Password setup'. The License details window will appear.

Clear out the existing user name and password. Enter the new user name and password which were sent to you upon purchase of your license.
The following are EXAMPLES only:

User name: EAV-12345678

Password: abcde12345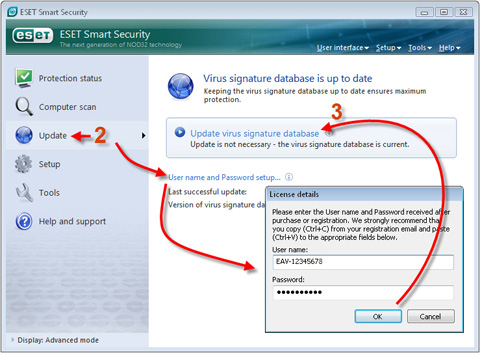 3) Click OK and then click 'Update virus signature database' (make sure you are connected to the Internet).

4) If you are not prompted for your user name and password, they have been entered correctly. If you are prompted for your user name and password, click Cancel and repeat steps 2 and 3. Make sure you are logged in as administrator, or have administrator privileges.
NOTE: Please remember to enter your user name and password exactly as they are written. The user name and password are case sensitive and the hyphen in the user name is necessary. The password is ten characters long and all lowercase. If you are copying and pasting, make sure you don't select an extra blank space. Also, we do not use the letter L in passwords (use the number one (1) instead), a big 0 is the number zero (0), a little o is the letter o.